C4 Frequently Asked Questions
1. When Will My Item Ship?
Every order is custom. Please allow 3-4 business days for your custom order to ship. All orders ship via United States Postal Service (USPS). 
Standard USPS Shipping: 4-6 days 
Rush 2-Day Shipping: 2 business days 
Overnight Shipping: next business day
2. What Size Dog Collar Should I Get?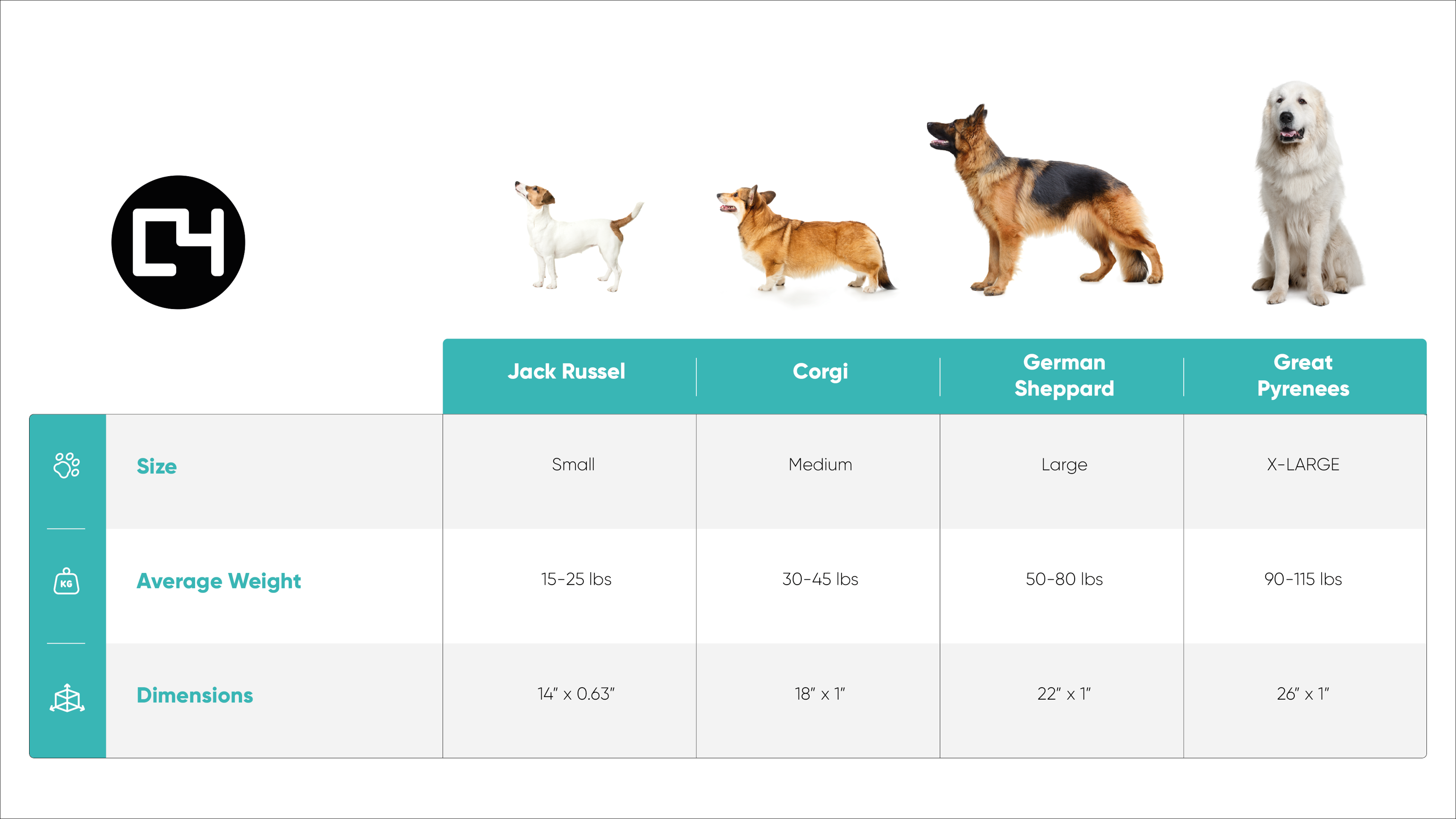 3. Is The Personalization On The Dog Collar A Metal Plate?
No, the personalization is printed directly on the collar as part of the design. So no need to worry about anything rusting or breaking off!
4. How Long Are C4 Belts?
C4 Belts comfortably fit up to a 42'' waist and can be cut down to size. Classic Belts are 1.25" wide and are 49.25" long before being cut-to-size & Skinny Belts are .75" wide and are 48" long before being cut-to-size.
5. My Item Broke/Faded, Can I Get It Replaced?
Yes! Though not typical of our products, things happen. Check out our lifetime guarantee on our products! Then simply email hello@c4belts.com
1. A photo of your defective product
2. Your shipping address
3. Your order number
6. Do the Apple Watch Bands come with an Apple Watch?
Nope, we wish we could sell Apple Watches for that price! But unfortunately we cannot.
7. Do You Ship International?
Yes. We ship to most countries outside of the USA. Your shipping rate for your particular country will be determined at checkout. 
8. Do You Offer Custom Printed Belts/Dog Collars? How Can I Get My Own Custom Belt/Dog Collar?
9. Are C4 Belts Nickel Free?
C4 Belts are 100% metal free!
10. What Are C4 Belts, Dog Collars, And Bands Made Of?
We use a super high-quality TPE (Thermo-polymer). It is soft yet durable and pliable but strong! Basically a premium silicone :)
11. Will The Dog Collar Rub Or Matt My Dog's Fur?
Absolutely NOT! Our collars were specifically designed to abstain from matting and rubbing and be comfortable for your dog to wear forever!
12. What size are your bandanas?
We have small bandanas and medium/large bandanas. Our small ones will fit necks up to 13" and measures 7" top to point and will fit breeds like Pugs, Chihuahuas, and Toy Poodles. Our medium/large bandanas will fit necks up to 20" and measure 10" top to point and will fit breeds like Beagles, Pointers, and German Sheperds.